How To Clean Dark Wood Cabinets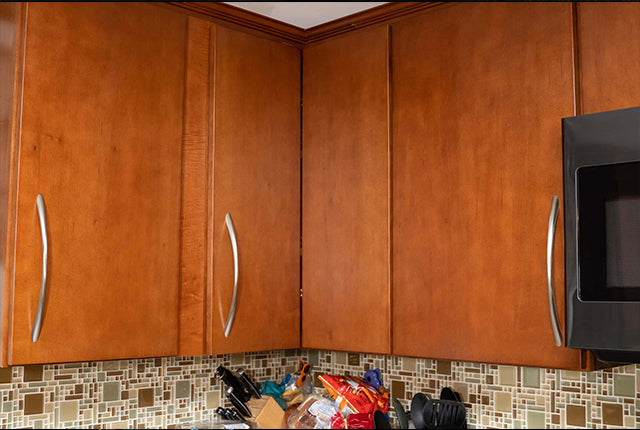 How To Clean Wood Cabinets And Make Them Shine
Cleaning your wood kitchen cabinets is part of having a home clean. With drips and spills that can accumulate over time, wood kitchen cabinets take a battering every day. Kitchen cabinets become filthy very quickly. When you cook, you splatter grease all over them from cake batter to olive oil. They are continuously exposed to filth and grease from cooking meals, which leaves behind food particles, sticky fingers, and dust as a residue and result in hard stain. The buildup hard stains over time dull the appearance of your wood cabinets in the kitchen.
While making fruit smoothies, you may forget to close the lid on the blender, switches it on, splattering orange juice and smashed banana around the room. It's a good idea to clean those hard stains with eco-friendly product in India frequently.
Best Wood Cabinet Cleaner
Vooki offers a straightforward solution. It can get remove the dirt, grease, and tough stain filth on your kitchen cabinets and make them seen like new again. Plenty of home care products are available in online shopping portal. Vooki hard stains spray+wipe helps to remove tough stains like kitchen oil stains, ketchup, mustard oil, food stains, and heavy grease. Vooki's hard stain remover is environmental friendly, as it is manufactured from a biodegradable mix and the advanced p3 formula.
How To Clean Dark Wood Cabinets
How to clean dark wood cabinets? Just spray Vooki's best wood floor cleaner and hard strain spray directly in the stained area, wait for 30 to 60 seconds and wipe it off. Shop Hard Stains Spray and Wipes Online from Vooki and keep your home clean and shiny.
.