The Unseen Germs Living On Your Kitchen Trash Can: Here's How To Clean It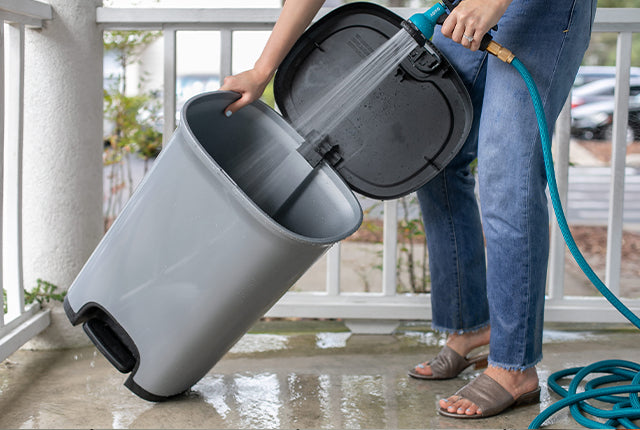 When it comes to cleaning, the kitchen trash can and recycling bin are one of the most ignored areas, with around 400 germs per square inch living and growing on the surface of the trash can. If you do not clean your recycle bin with proper disinfectant then, you are transmitting illness-causing bacteria and pathogens that reside in the garbage you throw away, such as cold, flu, Salmonella, and more. Weekly disinfecting is necessary to prevent the spread of disease-causing germs and common ailments. Non-toxic home care products are safe, best, made of nature-derived ingredients and gives eco-friendly cleaning solutions to your home.
Disinfecting wipes which contain alcohol are used by most people to keep the surface wet for up to 10 minutes in order to be effective. Within that time period, those bacteria can remain alive and spread if your trash can isnot wet the entire time. Normal disinfecting wipes can make it difficult to keep the surface wet without re-wiping several times, thus wasting time and money. Furthermore, alcohol can cause early plastic and vinyl cracking, while bleach wipes can cause surface discoloration. The best way to disinfectant a trash can is to buy sustainable and eco-friendly products in India from Vooki, India's online shopping portal.
Best Disinfectant Spray For Home In India
Buy disinfecting spray from Vooki, can disinfect hard-to-reach regions that wipes can't, and it ensures that the surface stays moist for the right amount of time, ensuring that germs are killed. Order best disinfectant spray for home that removes odor and germs from trash can.
How To Disinfect Trash Can?
Before using Disinfectant Cleaner, remove any gross filth or heavy soil in the trash can.
Hold disinfectant spray, six to eight inches away from the treated surface.
Spray the area with the Vooki disinfectant cleaner for home until it is completely covered.
Allow for 2 minutes of wetness on the surface. There's no need to scrub.
Wipe off using a clean cloth.