How to get rid of Crayon Marks on Walls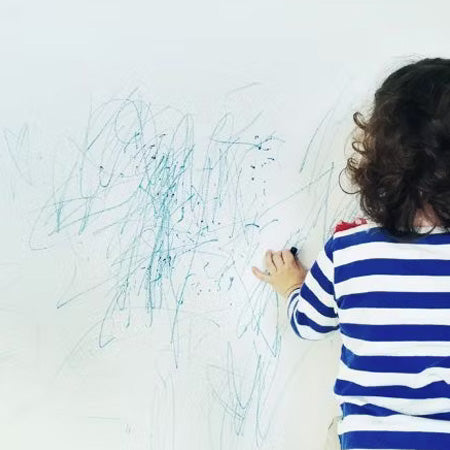 Beautiful homes and beautiful walls have always been the ultimate dream of many. Whether it's a home decor project or a complete renovation, the walls are an essential part of the plan. Painting your walls can be a great way to give your home a fresh new look. An art work that adds grandeur to your living room or a small family picture filled with happy faces, whatever the aesthetic, walls easily show them to the world.
It's important to take the right steps and precautions to ensure that your painted walls remain in good condition and don't suffer any damage over time. Sometimes, it's the furniture that rubs against them but when you have kids at home, they end up as little artists and display all their fantasy world through art work on walls.
Removing crayon from a wall can be an incredibly frustrating task. The wax-based material can be difficult to remove without the right methods and materials. With patience and the right supplies, you can restore your walls to their original condition in no time.
vooki Hardstain Spray+Wipe is here to help. It is a planet friendly, non-toxic solution that can quickly clean up the mess in just 30 seconds. Not only is it quick and easy to use but it also gets rid of the most stubborn stains without any hassle. This powerful cleaning product is designed to quickly and effectively remove stubborn stains from painted surfaces while protecting the paint from future damage. With vooki Hardstain Spray and Wipe, those annoying stains can be a thing of the past!
Innovation through Green Chemistry
All vooki products are made based on the 12 principles of Green Chemistry. Green Chemistry is the innovative thought process that re-looks at conventional methods of production. There are a lot of processes involved in creating a product starting from design, development and implementation. This pushes the innovators to figure out creative and innovative ways to reduce waste, conserve energy, and discover replacements for hazardous substances. To know more about Green Chemistry, look out for other blogs from us.
Posted in

best eco friendly cleaning products, buy home care products, clean crayon off wall, eco friendly cleaning products, eco friendly cleaning products in India, hard stain cleaner for wood furniture, Hard stain remover, Hard stain spray + wipes, home care product, How To Clean Common Touch Points In Home, how to remove crayon from wall without removing paint, how to remove pencil and crayon marks from walls., remove crayon from wall