How to Keep Your Fridge Stain-Free? Check out these easy tips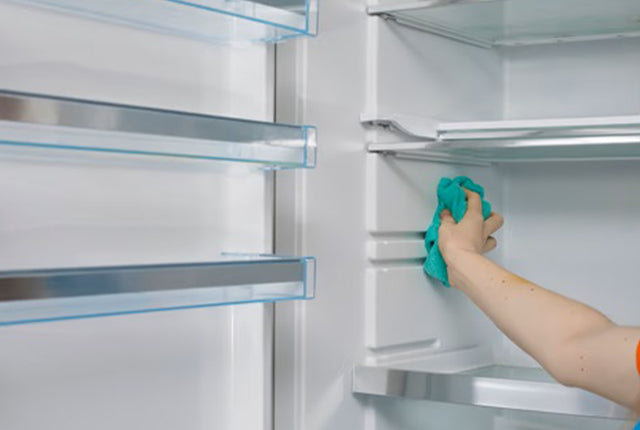 Refrigerator keeps your food from rotting. Regular fridge cleaning is essential for maintaining hygiene and preventing the growth of bacteria in food. To preserve our food effectively and limit the growth of bacteria, the fridge should be cleaned frequently. Confused about which product should be used for fridge cleaning? Do you have an eco friendly home hygiene product to clean your fridge?
Vooki is the best online shopping portal to buy natural cleaning products to clean your fridge. Its' time to buy an eco friendly refrigerator cleaner to clean the interior and exterior of your refrigerator, including all of its compartments.
Best Fridge Cleaning Spray India
Shop best fridge cleaning liquid spray that helps to clean fridge grills, glass bins ,rack stains, interior and exterior of your refrigerator. Vooki's fridge cleaner is an eco friendly product in India and follow the steps to clean the fridge.
Take out all your food items.
Turn off the refrigerator.
Remove all your refrigerator's compartments.
Spray hard stain remover in the interior of your refrigerator. Allow our fridge cleaning liquid in the stained areas.
Wait for 3 minutes and then scrub with a soft sponge.
Eco friendly refrigerator cleaner will remove all types of stains without leaving any residue.
In the meantime, clean glass bins and compartments with Vooki's dishwashing liquid, Best Dishwashing liquid &gel for sensitive hands. Just take a small quantity of Vooki's liquid dish wash gel and mix a small amount of water to it. Scrub it on the fridge glass bins, compartments and rinse it off.