5 Tips To Keep Your Children Away From Phone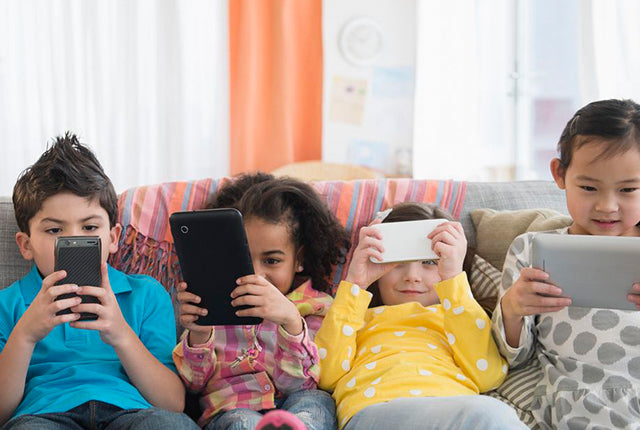 Worried about your children's excessive use of mobile phone? Are you afraid that it might turn into an obsession?
In today's world, everything is online, and keeping children away from mobile phones is a challenge for parents. Can you believe a four year kid can watch, play games and even chat in WhatsApp without knowing how to read in your smart phone? Children know about internet and phone than you do. Moreover, every parent wants to keep their children away from smart phones and not to get addicted.
Parents are the first role model for their children. Nowadays, both of them are working and they spend minimum amount of time with their kids. They engage them with smart phones while at working hours, long drive in car, standing in queue at the supermarket and so on. Therefore, it is essential for family members to act as role model for their kids and educate them on the importance of family time.
Wondering how to keep your child away from gadgets? If you are searching for any parenting tips to keep your children away from phone, then you have landed on the correct page. We are sure these tips would help your kids to stayaway from mobile phones.
Engage your kids in outdoor games.
The benefits are unlimited for children who play outdoors. Outdoor games are incredibly important to kids' personal development as healthy eating and plenty of sleep. The benefits of unstructured outdoor games are endless, varying from lower stress levels to better life skills and maybe enough to get your children away from their electronic screens. While playing outdoor, most kids are physically active, adventurous, and gain peace of mind away from screen time. By playing in nature, it will improve your child's mood and soothe stress, in addition to it provides vitamin D and fresh air.
While returning back home, make sure your hands are sanitized properly. Buy hand sanitizer online from Vooki at best price.
Plan A Family Get Together
Smart phones are an invaluable technology that has fundamentally changed the behavior of our kids and negatively affected our family relationships. Check out the tips on how to plan your family get together in creative and fun ways whilst strengthening your family bonds.
Flip through your old family albums along with your children and share your memories and stories that rely behind the photos. Also, you can add recent pictures in your family and make this a regular activity. While doing so, you will forget the urge to look at your cell phone even as time flies by.
Go out for a dinner with your lovely family and friends. Having dinner as a family allows you to be a part of their daily routines. Use it as an opportunity to reconnect with each other.
After dinner, walk together talk to your kids and answer the questions they may have come across during the day when you were apart.
Show your parents that you care about them in your family get together.
Play outdoor games with your kids.
Cook with your family. Getting together in a clean kitchen can be lots of fun for the young ones. If your kitchen is messy after cooking, buy disinfectant cleaner spray from Vooki which helps to clean your kitchen cabinet, floor, etc. It is one of the best disinfectant sprays for home in India.
Pick A Good Books and Have A Joint Reading
Pick up good books and start reading jointly that helps to put their phones away. Read a bedtime story with your kids. If you do this frequently, it can become a habit and part of your nighttime routine.
 Engage Them In Cleaning The Home
It's a great idea to involve kids in cleaning as you de-clutter and freshen up the home. Divide the house into different sections among family members as this will ensure the house is cleaned quickly and teach them the value of cleaning. Children are often allergic to dust and dirt. Therefore, select eco-friendly cleaning products online and safe cleaners from Vooki. Engage your kids in cleaning household items like mirror, coffee tables, kids room, etc using the best home hygiene products available in India from Vooki, one of India's best eco-friendly and sustainable cleaning product online store.
Engage Them In Crafts Works
Creative craft ideas like clay modeling, origami paper work are some of the fun and interesting activity to encourage kid's imagination that helps to put their phone apart. Most of the children love to scribble, draw using vibrant colors and make doughy texture for clay modeling. Playing with clays, origami papers and painting works will improve the skills of children, as they use their hands to mold different shapes. After playing with crafts, it is better to clean their hands with active germ shield spray. Just spray once and get 14 days germ protection.