Speed Up The Cleaning Of Your Crystal Chandelier With Vooki's Hard Stain Cleaner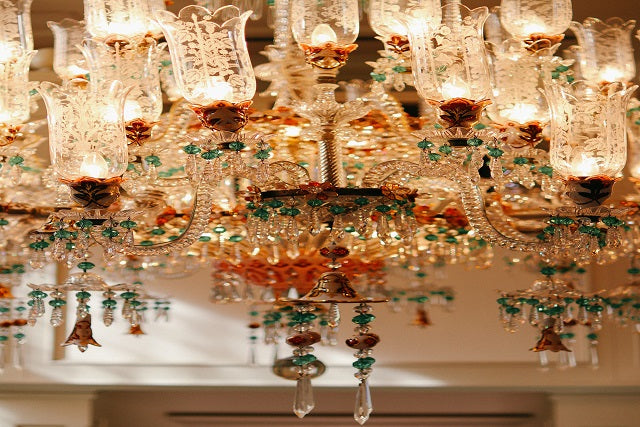 Crystal chandeliers add a touch of elegance to your home. We love the way crystal chandelier glistens in the light, you undoubtedly dislike the dust and filth that settles on all the small parts. The substances used in chemical filled cleaner have the potential to damage the finish by discoloring, peeling, or breaking it. Want to know the best way to clean your crystal chandelier? Buy hard stain cleaner from Vooki which is the best crystal chandelier cleaner,that takes less time and completes cleaning in one sitting.
How to clean Crystal Chandelier
How often to clean crystal chandelier? Depends on where the chandelier is located. Kitchen or bathroom chandeliers require more frequent cleaning since they can easily become coated with grease that draws in more dust. High humidity environments also make dust on chandeliers stick to them more quickly. Buy best chandelier cleaner spray from Vooki that helps to remove dirt and sticky stains.
Vooki's hard stain cleaner is the best crystal chandelier cleaner which makes your chandelier spotless and restores it sparkling shine at best price. Our Vooki experts have provided some tips to clean crystal chandelier using hard stain cleaner.
Place a blanket on the floor beneath the chandelier.
For safety precaution, turn off the chandelier.
If the chandelier is suspended in a risky location, such as above stairs, avoid attempting to clean it without professional ladders with leg levelers that can be placed on stairs.
Spray Vooki hard stain cleaner on to the sticky, dusty crystal prisms.
Wait for 30 seconds.
Gently wipe the crystal with a clean cloth. It is not necessary to clean with water again, because Vooki's hard stain cleaner will quickly dry the crystal prisms.
Best way to clean crystal chandelier
Clean the chandelier regularly to avoid heavy dust accumulation. If you are not comfortable cleaning the chandelier without removing it, then the better way is to take off the chandelier, place it on the floor and remove the crystal prisms from it.This makes it simpler for you to clean every nook and corner of the frame.
Take a bowl of water and add 3 to 4 drops of Vooki's dishwashing liquid to it. Wash each crystal with a sponge and rinse it well. Now your chandelier crystal looks as new as you bought and maintains the true beauty of the crystal prism. Assemble the chandelier perfectly and hang it again.
 Cleaning the chandelier must be part of your cleaning routine. Vooki's chandelier cleaner spray is an ecofriendly cleaning product in India that is safe for sensitive skin. Vooki is the best place to buy home hygiene products and keep your home and environment safe.