How to Clean a Car Mirror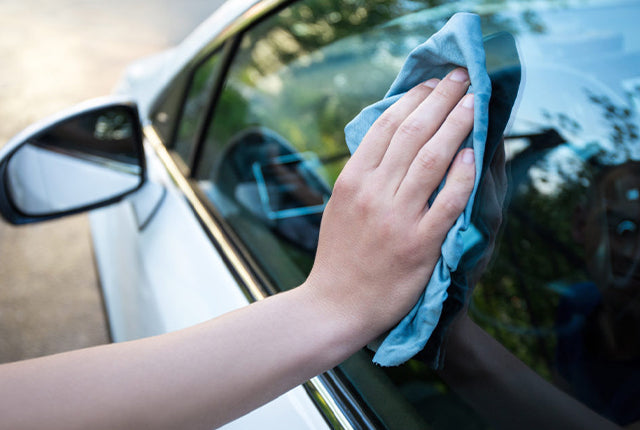 How to Clean Car Mirrors and shine like glass?
Your car mirrors are essential for driving safely and protecting yourself, your passengers, and other road users. They do, however, get dirty or develop a film that inhibits their effectiveness, just like any other part of your car. In addition to your usual excursions to the car wash, be sure you clean your mirrors using a glass cleaner.
It's time to clean your mirror if you can't see a clear reflection in it. In this article, we'll go through the causes of hazy mirrors and how to clean them so they stay shiny glass. A simple reason could be a buildup of dirt and a lack of maintenance. Desilvering – Because mirrors are composed of glass with a silver backing, they may develop black spots over time. This is known as desilvering, and it is caused by dampness. Water can soak through the silver layer and into the backing, causing black blotches on the perimeter or in the middle of the mirror. Improper cleaning practices might potentially de-silver the mirror.
Best Glass Cleaner in India
Use Vooki glass cleaner, one of the best glass cleaner in India to keep your car mirror free from dust, dirt, spattered bugs or wet marks on your glass. Vooki Glass cleaner gives the best results to make your mirror a new one. It gives perfect shine to glass and leaves streak free shine. Buy glass cleaner is non toxic, ammonia free and is safe on skin. Buy ammonia free glass cleaner and make your car shiny glass and enjoy your travel in the car.
How Do You Clean Side Mirrors?
Car side mirrors are important to operate your car safely. It tends to get dirty often. Some people use tissues and paper towels to clean the side mirror which results in streaks and lint. Therefore it is necessary to buy best glass cleaner product. Buy best eco friendly glass cleaner from Vooki which is one of the best cleaner to clean car side mirrors that is made specifically for glass. Glass cleaners available in the market contain ammonia which can harm the side mirrors and results in smudges and streaks. Buy eco-friendly cleaning product online in India from Vooki to achieve professional results when you clean your side mirrors.
How To Clean Car Interior Mirrors?
If more than one person drives the car, you may notice finger print marks on the car interior mirror. They often adjust the mirror which is unavoidable. The cloudy film and finger print smears are noticeable at night time. Buy car glass cleaner which is free from ammonia & non-toxic, best eco-friendly product in India.  Easy way to clean your car interior mirror is, just spray car glass cleaner in the mirror and wipe it off using a clean cloth. Then, your interior mirror looks shiny and streak-free.
How To Clean Car Windows Without Streak?
Cleaning your car windows sounds like an easy task but frequently you're abandoned with a messy, streaked finish that is harder to view than before. Use glass cleaner from Vooki, you will be left with crystal clear windows. It removes saps, stone chips and makes the car windows streak-free and perfect. It is one of the best car mirrors cleaning liquid in India. Vooki glass cleaner uses nature-derived formula that is safer for car windows and acts as an alternative for ammonia and hazardous chemicals.
Buy best home care products from Vooki, keep your environment clean and safe.
Related: Best Gadget Cleaner in India