Vooki: The Best Eco-Friendly Cleaning Products In India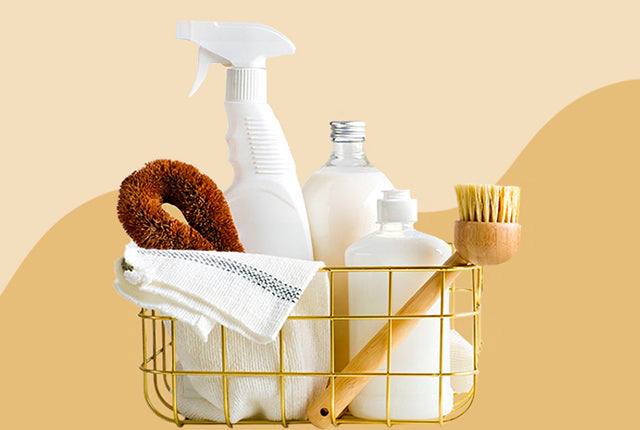 Eco-Friendly Cleaning Products In India
We all love to have a sparkling, clean, and odor-free home. However, most of the people opt for eco-friendly cleaning products to avoid the harsh allergens and chemicals found in typical household cleaners. Greener, non-toxic, biodegradable, and natural cleaning solutions in Vooki can assist you in incorporating environmental friendly products into your cleaning routine.
Our Vooki experts have listed out six top eco-friendly products in India. You can use these cleaning supplies with confidence, knowing that they won't hurt your health or the environment. They are relatively available at best price.
Best Hard Stains Spray + Wipes
Hard Stains Spray and Wipes is one of the best hard stain removers that hold type 1 eco label certification which are non toxic, skin friendly and biodegradable. Vooki's Hard Stains Spray and Wipes is the 1st eco friendly home cleaning product in India which offers 24 hours antibacterial germ protection with nature derived sustainable ingredients that are safe on skin.
 Why Buy: Just spray it on the tough stains & wipe it off.  It is used to clean surface stains like coffee, tea, ketchup, sauce, turmeric, oil, vegetable marks, smoke stains, shoe marks, blood stains, rust, grease, mud, ink, crayons, lipstick marks, nail polish, poster colors, and permanent marker. It is one of the best home care products available online in India.
Related: how to remove stains from porcelain sink, fridge cleaning liquid, exhaust fan grease cleaner, how to remove crayon from wall
Best Toilet Bowl Cleaner
Toilet Bowl Cleaner makes green cleaning easy with no acidic fumes. Vooki toilet cleaner don't contain phosphates, chlorine, ammonia, brighteners, artificial colors. The sophisticated composition develops an anti-stain film over the toilet bowl, preventing the production of yellow scale, tenacious stains, and soil depositions up to 100 flushes.
Why Buy: Vooki's eco friendly toilet cleaner is non-toxic, plant-based cleaner uses biodegradable ingredients. It doesn't emit harsh fumes or leave behind residue during cleaning activity. Green Acid formulation used in Vooki toilet cleaner enables easy cleaning without hard scrubbing. It is one of the best bathroom cleaning product in India.
Best Floor & Surface Cleaner
Floor & Surface Cleaner is an eco-friendly cleaning product that suits all types of floors and available at best price in India. The best floor cleaner liquids are gentle and have a unique pleasant fragrance. These kinds of floor cleaners maintain the shine and also keep marbles, tiles, floor smooth.
Why Buy: Floor & Surface Cleaner Liquid holds recognized Green Pro certification and it is a Type 1 Eco label certified product in India. Shop online for best floor cleaning liquid and pick the one that suits your floor cleaning needs.
Best Glass Cleaner
Glass Cleaner is non-toxic and ammonia-free cleaner. It gives a perfect shine to glass. Advanced P3 Formula penetrates & cuts through deep roots of stains and wipes it away without leaving any residue of dirt or liquid.
Why Buy: Vooki glass cleaner can be used to clean glass, chrome, mirrors and stainless-steel surfaces in your home and gives a streak-free shine. It does not contain any dyes or artificial fragrances.
Best Germ Shield Spray
Germ Shield Spray is one of the most effective disinfectant sprays. It can be applied to the surface as a biostatic surface protectant to kill and control the spread of germs by 99.99 percent. Just Spray once and have 14 days protection.
Why Buy: Vooki Germ Shield is an antibacterial coating that kills the vast majority of germs that come into contact with it. Germ Shield spray adheres to the surface, forming a protective shield. It is also environmentally friendly, as it is manufactured from a biodegradable compound.
Best Disinfectant Cleaner
Disinfectant Cleaner from Vooki eliminates germs from your home. It is India's best disinfecting cleaner liquid.  Use Vooki finest disinfectants cleaner for home to clean the entire house. Vooki disinfectant cleaner is tested and proven to kill enveloped viruses on hard, non-porous surfaces in 2 minutes.
Why Buy: Vooki Disinfectant Cleaner safeguard your home not only to clean but also to disinfect it to stay safe from diseases like malaria, typhoid and fungal infection. Order surface disinfectant cleaner which helps to keep your home germ free and sparkling clean.
Buy home care products from Vooki and have a healthy life!