VOOKI's Fume-Free Heavy Duty Toilet Bowl Cleaner: A Solution for Stubborn Stains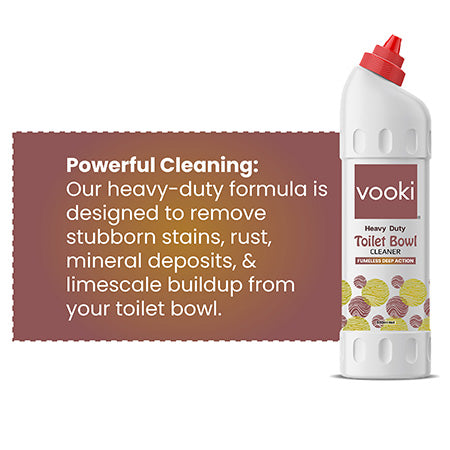 GREEN COMMUNITY TAKE-OVER
It's Festive season and two excited vookified members of the Green Community are taking over the Blog this month. Let's join in on their conversation about festive prep and all that it takes to keep a home hygienic, sparkling and clean to make you the perfect host for all your festive gatherings happiness and peace.
Hello! It is Rajesh again. And here's our next update of the "Great indian Clean-up" - Toilets. Although secluded in a corner of our homes, toilets sort of take the center-stage, when you have guests or visitors at home. And you certainly don't want them to let you down during the festive season.
Yeah! I can see you silently nodding your head. Because toilet bowl stains can be a real pain to deal with.
The problem with Conventional Toilet Bowl Cleaners
As in most cases of cleaning, we want to end it quick with minimal effort; so, we get the strongest cleaning fluids off the rack and get down to business. Right? I agree. We've all been there. But honestly it does leave a bad afterburn - those pungent fumes.
Usually, a cleaner would rely on highly potent chemicals to deal with stains and eliminating germs. Although one may get you the results in cleaning, its strong odors can be overwhelming, and in poorly ventilated spaces like toilets, these fumes can pose serious health hazards.

And at times, the ability of such cleaning fluids to break down hard stains is challenged by stubborn stains of rust and limescale, which are an eyesore to look at, even after rounds and round of scrubbing. So, what we need is a little more than the usual toilet bowl cleaner from the market that is more effective, safe, and environmentally friendly.
So, a couple of weeks back, when we started planning our Great Indian Cleanup for the festive season, Madhu (My ever-smart wife, who is amazing at grooming homes) found this new product from the internet, vooki's Fume-Free Heavy Duty Toilet Bowl Cleaner. At first, it seemed like just another product marketed with an array of cleaning catchphrases. But I was bowled over by its performance, much like a yorker from an in-form Mohammed Shami in a World cup game. Here's why:
Effortless Application:
It looks like the design team at VOOKI did their homework well while designing the product. The cleaner comes in an easy-to-use bottle dispenser, which enables hassle-free application. All I did was simply dispense a few squeezes into the bowl, let it sit for a short period and then scrubbed away those stubborn stains into the past.
Feast to the eyes, Favour to the nose
VOOKI's Fume Free Heavy Duty Toilet Bowl Cleaner has got a smart stain removal formula that tackles limescale, rust, and other stubborn stains, without even leaving behind a hint of fumes. It took minimal effort applying the liquid to restore our toilet bowl to a gleaming, spotless look, all without having to wear industrial grade gas masks.
Safe for All
You can finally quit worrying about the dangers of exposing your loved ones to harmful chemicals in toilet cleaners when you go for VOOKI. Their repetitive clinical trials & eye for safety ensures that it is both pet-friendly and safe for domestic use.
Eco-Friendly
As every other product in the VOOKI's line-up, this toilet bowl cleaner is a reliable and an eco-friendly option. All I can say is that by choosing VOOKI's product, you're contributing to a cleaner, healthier planet.
So here I am, almost done cleaning up our Bathrooms for the festive season. And I guess you were here to see how VOOKI's Heavy Duty Toilet Bowl Cleaner made the process as easy as it could get. Until we catch up again, See you!