How to Keep Your Fridge Stain-Free? Check out these easy tips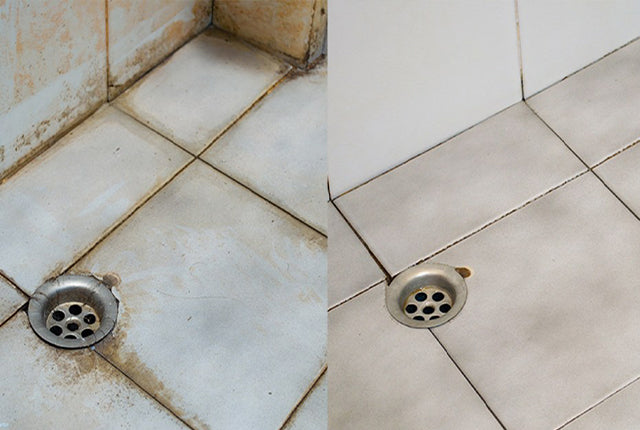 Bathrooms are not just another room in your home. If properly maintained, your bathroom may quickly transform into your own personal mini spa, whether you're taking a short shower in the morning or a luxurious bath on the weekend. Bathrooms can give you a little break and privacy. Unfortunately, this is also a place where dirt and viruses tend to build up more quickly than in any other area, especially on the tiles. No one likes hard water; yellow and salt stains on bathroom tiles. Want to know how to remove stains from bathroom tiles? To remove stains from bathroom tiles, having a basic understanding of eco friendly cleaning techniques for bathroom tiles that can be useful.
How To Remove Stains From Bathroom Tiles
The yellow stains on bathroom tiles are an eyesore for both you and your visitors. Are you worried about how to clean bathroom tiles stain? Maintaining the aesthetic appeal of your bathroom can be accomplished with our eco friendly floor cleaner. Buy best floor cleaner liquid in India from Vooki and routinely clean the grout between your tiles. Other places that require routine maintenance include faucets, showerheads, and shower cubicles and to remove limescale descaler from these places, buy best limescale descaler for bathroom tiles from Vooki. Vooki is the best place to buy eco friendly cleaning products in India and home hygiene products
How to Remove Saltwater Stains from Bathroom Tiles
Searching for how to remove salt stains from bathroom tiles? Vooki's Tiles floor cleaner is the best option to clean salt stains from bathroom tiles. Best floor tiles cleaner liquid removes the salt from scratch without damaging your tiles. Here's how to clean salt stained tiles in the bathroom:
Dry the floor and then vacuum as much salt as possible.
Spray Vooki's eco friendly liquid floor cleaner on the salt stains on bathroom tiles.
Leave it for 5 minutes,
Scrub the stains gently and then take a damp microfiber cloth and wipe it to remove any residual salt. At last, wipe with a dry towel/cloth.
How to Remove Limescale from Bathroom Tiles
Limescale sticks to the faucets and tiles in your bathroom and have a chalky white appearance. To remove limescale from bathroom tiles, buy best limescale remover/descaler from Vooki with which you can clean your bathroom tiles without using gloves. Moreover, ecofriendly limescale remover spray + scrub is biodegradable. Spray best nature-derived limescale remover to the tiles, then let it sit for a short while. Then scrub the tiles, rinse them with clear water.
In order to maintain your bathroom tiles free from all types of stains, you must regularly clean them with our Vooki's eco friendly home cleaning products.